Welcome to IEDC-2017
Fifth International Conference on Infrastructure Engineering in Developing Countries (IEDC-2017) is aimed to highlight and discuss the problems of rapid urbanization in developing countries. NED University has successfully organized four international conferences (IEDC-2001, IEDC-2004, IEDC-2010, IEDC-2013), which were helpful to understand and mitigate urban infrastructure planning and management issues. IEDC-2017 will provide the platform for stakeholders, academicians, researchers and professionals from transportation and urban infrastructure industries to participate and share experiences to provide solutions for transportation and infrastructure management problems. The conference will also be helpful in sharing of ideas, transfer of technologies and development of linkages among various links. Authors are invited to submit manuscripts from their research. Full papers will be peer-reviewed and accepted papers will be published in the conference proceedings. Acceptance of paper will be based on quality, relevance, and originality of research.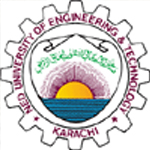 The NED University of Engineering & Technology, was established in March 1977 under an act of the Provincial Assembly of Sindh after upgrading of the former NED Government Engineering College, which was set up in 1922. The NED University is thus one of the oldest institution in Pakistan for teaching and producing Engineering graduates.